CALL or TEXT 218-910-8200
R.E.I Home Inspections
&
Manufactured Home Foundation Certifications
Proudly Serving Grand Rapids Minnesota Including All Itasca County, Aitkin Minnesota Including All Aitkin County & Duluth Minnesota Including All St. Louis County.
"R.E.I Home Inspections doesn't strive to be the cheapest price, We strive to provide the best value"
Why You Should Have A Home Inspection
"The fact is, you should get a home inspection because buying a home may be the single largest purchase and investment you will make during your lifetime and you need to do everything in your power to protect that investment".
The average buyer pays between $150,000 and $350,000 for a home. The inspection fee is not only the single best value of all your home purchasing costs, it is the best way to determine if you are making a sound decission that makes financial sense.
Every home will have somethings that need repair and maintenance, that's just a fact of ownership, the question is what items, what are their costs and when do they need to be done. Knowing there are going to be costs for maintenance and non-critical repairs is understandable, but thousands of dollars of costs to replace roofs, equipment or structural repairs in the near future may seriously tax your ability to own the home. People default on their homes this way or at the least end up living under sub-standard conditions because they can't afford the repairs.
You should never give up your right to walk away from a home purchase, because the seller's disclosure is often inaccurate, misleading or missing critical information. Having a home inspection is always in your best interest, don't ever let anyone make you believe otherwise.
Manufactured Home Foundation Certifications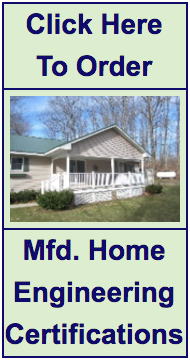 If you are selling or buying a manufactured home, then most likely a foundation certification will be required. For all FHA and VA loans, an engineer's foundation certification is required that states that the home is placed on a permanent foundation that complies with the "HUD Permanent Foundation Guide for Manufactured Homes", dated 1996 by the US Department of Housing and Urban Development (HUD).


WE'LL BUY YOUR HOME GUARANTEE!
R.E.I Home Inspections is enrolled and offers the InterNachi Buy Back Program. The Buy Back Program is another way of ensuring you are comfortable with making your purchase decision. If we miss anything InterNachi will buy your home back. For details and more information please CLICK HERE.
OUR CERTIFICATIONS